SNR BLOG POST: Best-Kept Secret #6: KNEADED TOGETHER BAKERY
Kathy and Kim's "Love-of-Family-Together" Business Path Bursts with Creativity, Friendship, TTU-and-Community Pride...
MOTHER/DAUGHTER NURSE TEAM
KNEADS TO BAKE CAKES, CUPCAKES,
PIES AND COOKIES FOR EVERY OCCASION 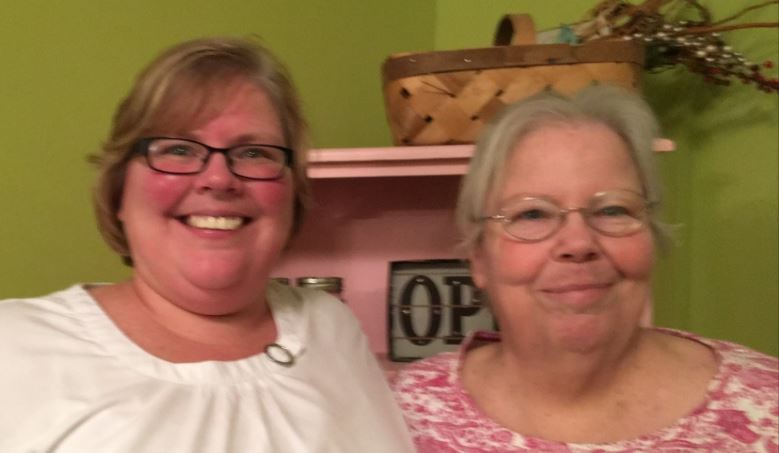 Just look at these smiles! And check out the photos below that feature just a few of their many hundreds of creations.
Can you see how the name of their bakery:
KNEADED TOGETHER
seems to squish out of every corner?
From a family that donates 80% of its "Miracle Mountain Farms" crops, Kathy Payne explains, "Our family sticks together through thick and thin. We've always been there –with love— for each other's needs when tough times called for support and sacrifice."
Partner/daughter, Kim Williams says, "After years of having fun baking special occasion cakes for free for friends," (and for churches and community donations, which they continue to do… including 1,000 cookies recently for the Cookeville High School "Cabaret Chorus" performance at Life Church! ) "we built up such a following that we decided to make it a business, how could our bakery's name be anything else?"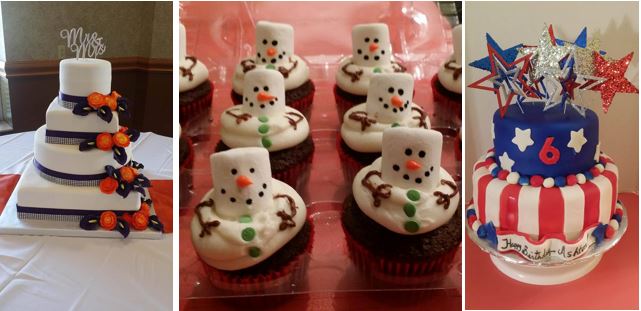 If ever there was a business that was homemade and handmade for every occasion (even hand-digging their own sewer line to connect their –once a church—garage kitchen!), Kathy and Kim are the perfect team. A second daughter, Mary Williams (same last name as Kim, but different husbands), a medical billing specialist, and helps out with business referral and organization tasks.
Kathy is a retired Licensed Practical Nurse. And Kim, who earned her LPN and RN degrees at TTU, has been fulltime employed for three years by the campus Health Services in the Nursing Building on 7th Street, where she tends to the daily ailments of faculty, staff, and students — often totaling 60-100 visits a day!

Mom spends most of each day getting the home/garage/bakery kitchen and supplies organized. She starts cake, pie, cookie, candy, lollipop, cupcake, bread, and cinnamon bun order prep so that when "my perfectionist daughter" arrives home, the final baking and decorating can begin. "Ya hafta love it!" exclaims Kim.
While most of what Kathy and Kim do is instinctive and self-learned, they also have a collection of Great Grandma's Recipes they use for specialized baking, like Apple-Stack Cakes ("Stack!" as in "Stack of Pancakes"!"). They create 5-6 cakes per weekend.
Their community generosity, dedication and creative skills alone account for their more than 1,000 Facebook "Likes."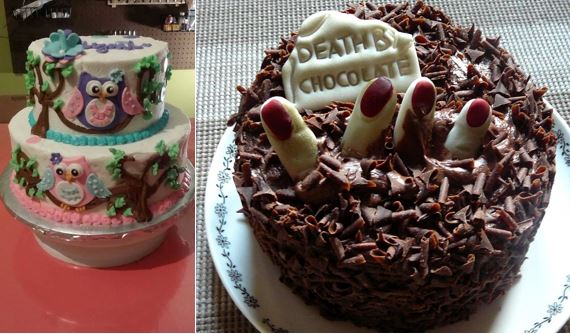 And what's not to like about the fantastic range of KNEADED TOGETHER BAKERY'S customized and personalized baked goods? And, if you can believe it, they taste even better than they look! Kim says their goal with every order is "to have it be the very best-tasting bakery product our customers have ever had."
So whether it's a wedding, birthday, graduation, anniversary, new baby, retirement, team victory, or a Valentine, a proposal, shower, job promotion, great school grades, a heroic deed, a memorial, a championship, a get-well treat or just a special occasion or message you want to send or present… you may want to consider calling KNEADED TOGETHER.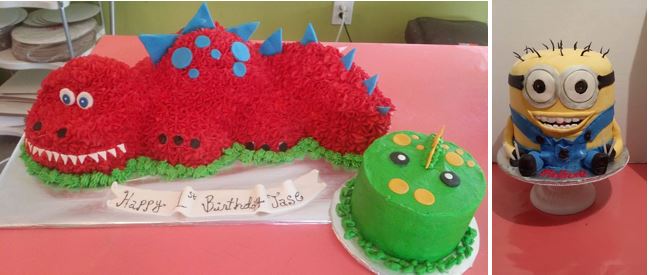 Kathy and Kim will help you figure out the most appropriate product(s), sizes and ingredients, a decorating style and theme, the amount of advance notice and deposit needed (1-2 weeks absolute minimum), and provide a finished product order cost estimate and delivery/pick-up date.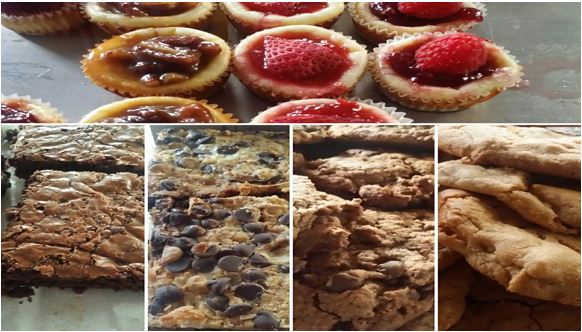 Celebration cakes are $35 and up. Cupcakes run $15 a dozen and up. Cookies are $12 a dozen. Pies are $15 and up. Lower priced items are made with the same ingredients as those that cost more. Cost differences have more to do with quantity and size and with special themes and effects.

The Tennessee Highlands bakery made famous by "return customer word-of-mouth" is located at 1503 N. Dixie Avenue, Cookeville, two blocks West of the TTU traffic light at 12th Street.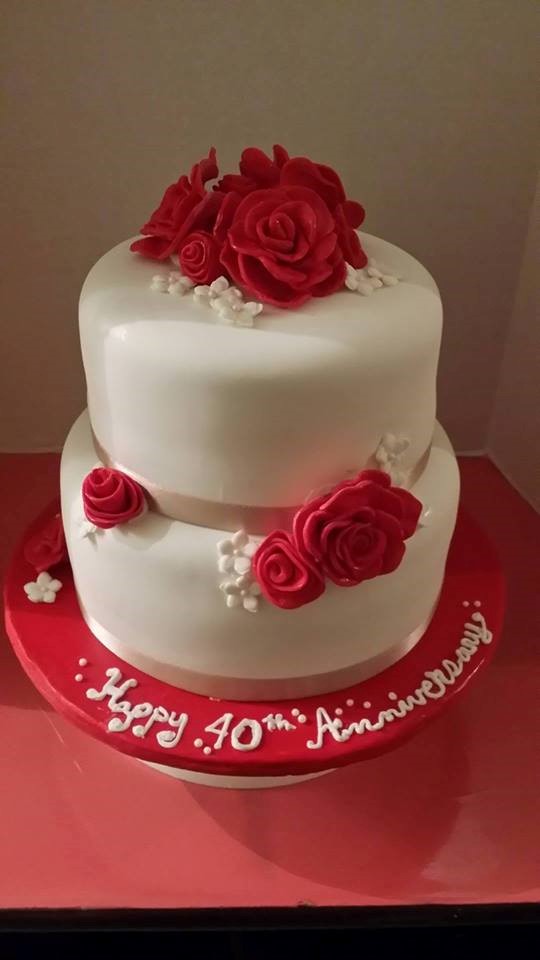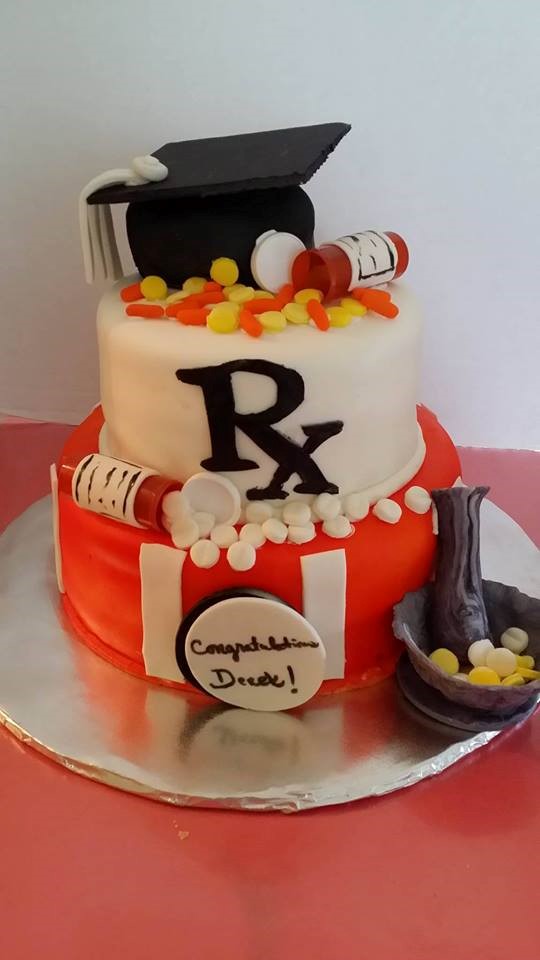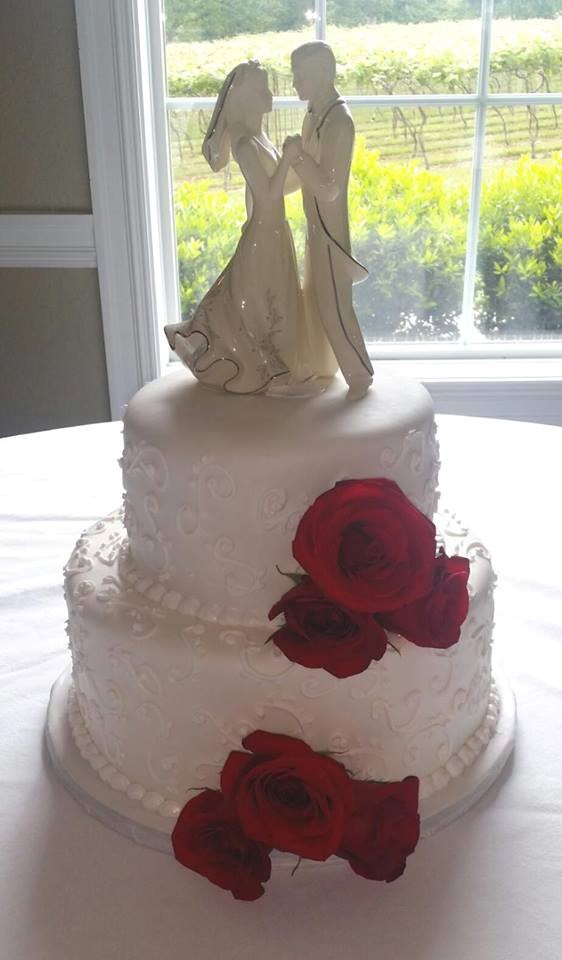 For information on their products and monthly "give back to the community" drawings, or to get quotes, or place orders, call Kathy at 931.651.1561 or Kim at 931.303.6972. Email requests to: mayberrycathy@gmail.com