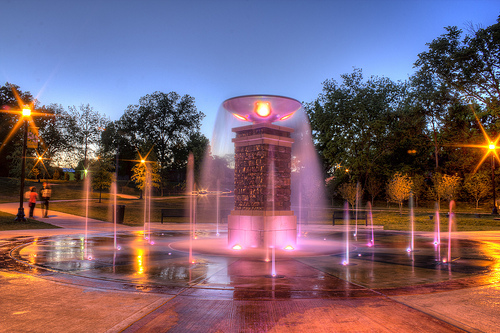 Looking for some cheap fun entertainment for the kids? Cookeville has plenty of public parks
located throughout the County. You'll never have to venture far to find fresh air and fun. Parks provide intrinsic environmental, aesthetic, and recreation benefits to our cities. They are also a source of positive economic boasters. They enhance property values, increase municipal revenue, bring in home buyers and workers, and attract retirees. Not to mention bringing the family together on a Sunday afternoon.
Ensor Sink Natural Area: A beautiful little park in the heart of town which features picnic tables,
two walking trails, a small amphitheater for lectures and educational uses, a stone council ring for scout meetings and nature groups and a gazebo with an informational kiosk which centers on our city's system of sink holes. We often stop here just to take a moment to slow down and enjoy our lunch.
Dogwood Park: A green oasis in the downtown area, located at 30 E Broad St, across from the
City Municipal Building. It's a great place for lunchtime picnics. The Department's Performance Pavilion is located in this park. This park is also home to a beautiful interactive fountain which flows daily throughout the spring/summer season. Also, during the summer, the city hosts "A Movie in the Park." Bring a blanket and the kids and enjoy a family friendly movie. The newest section, Heart of the City Playground is one the coolest playgrounds in the state. Handicapped accessible and suitable for all ages (even adults will have fun here), you'll find you're going to need lots of time to do all there is. Built with donations and with local hands donating their time and sweat, this is a playground that is truly one of a kind.
Cane Creek Park: Cookeville's largest park and the "Finest Municipal Park in the Upper Cumberland", located at 201 CC Camp Rd., hosts well over 100,000 visitors yearly. The park contains a concession stand, three picnic shelters, basketball and volleyball courts, play equipment, hiking and walking trails, boat rentals, an 18-hole Disc Golf Course and a lake to fish. Hours are: 7 am – 9 pm unless otherwise posted. Shelters may be rented by calling 520-4FUN. Paddleboats, canoes, and fishing bait may be purchased at the concession stand April through September.
Cinderella Park: Located at the end of Mitchell Avenue at 700 Cinderella Lane, Cinderella is one
of the city's oldest neighborhood parks. It has a small picnic shelter with tables, playground and a basketball court.
West End Park: This neighborhood park is located at 609 West End and has a volleyball court,
play equipment, picnic tables and a basketball court.
Park View Park: This park is adjacent to Park View Pool at 570 Scott Avenue. New state-of-the-
art playground equipment fully accessible by the disabled child has been added as well as a picnic shelter with tables.
Capshaw Park: On the corner of South Maple, Stevens St. & Elm Ave., this park is adjacent to
Capshaw School. This park is a natural area with trails and picnic tables.
Franklin Avenue Park: Franklin Avenue Park is located at the corner of Franklin Avenue and 6th
Street. It is one of the most popular neighborhood parks, and contains play equipment. It also has small picnic shelters and horseshoe courts.
Walnut Park: This park is located at 186 South Walnut Avenue, immediately behind the Senior
Citizens Center. This passive park contains a walking trail, picnic tables and a gazebo.
When you get the chance, take an afternoon to stop by one of these parks! Let us know which
your favorite is! * Info gathered from http://www.cookeville-tn.gov/ls/city-parks/*