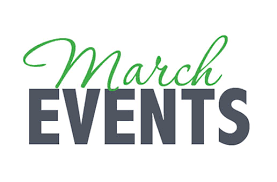 As the weather warms up so do the events in Cookeville. There will be plenty to keep you busy in Cookeville for the month of March. Here are just a few of the events happening in our fair city.

Upper Cumberland Home & Garden Show
March 1 - March 3
For all those interested in home and garden items and services this is the event for you! There are going to be over 100 exhibitors with exhibits from landscapers to builders. There will also be seminars in home improvement, home trends and also a cooking stage with culinary tips. There will be plenty of interesting items to buy such as new and old home furnishings. This annual event is being hosted by the Home Builders Association of the Upper Cumberland and will be held at Hyder Burks Pavilion. You won't want to miss it!
Dog & Cat Adoption Meet & Greet
March 2
Open your heart and possibly your home to a pet in need when you attend this event being held at the Cookeville Petco. This event is hosted by A.A.R.F., which is a small group run by volunteers in the Upper Cumberland with a devotion for animals in need. You can message them directly to see if your preferred pet will be in attendance.
SEBRA in Cookeville
March 8 - 9
Also being held at the Hyder Burks Pavilion is a rodeo hosted by SEBRA in Cookeville. This will be a fun event full of action. SEBRA stands for Southern Extreme Bull Riding Association and you can get more information on this event here on their website. There will be bull riding and roping perfect for all cowboys and their fans!
Nitro Arenacross
March 22 - 23
Yet another event at the Hyder Burks Pavilion is the Nitro Arenacross, which is an event where the top racing professionals of all ages in the country compete for a $7,000 weekend event purse and a $110,000 tour purse. There will be a mind blowing intro show consisting of laser lights, fog, and music. If you arrive early at the free track party at 6pm, you can get a free poster and meet the tour's top professionals. This is a huge event that you won't want to miss!

TTU Miracle Superhero 5k
March 23
Dress as your favorite superhero while raising money for the Monroe Carell Jr. Children's Miracle Network Hospital at Vanderbilt. This event is open for all ages and everyone is encouraged to dress up in their best superhero costume. This is the third year this event has been held with hopes to expand further into the community this year.
So if you're looking for something to do, then check out one or all of these events. There is plenty to keep you busy from exciting races to possibly adopting animals in need. These events are indoors so even our unpredictable Tennessee weather can't get in the way!