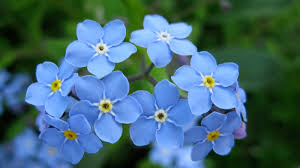 Did you receive your seed packet? Spring is here, and prices are changing! Are you wondering what your home is worth? Visit our Highlands Market Prices website to see the current value of your home! Curb appeal is a great way to increase the value of your home! Forget Me Not Flowers are beautiful blue flowers with yellow centers that I am sure you will enjoy!
These helpful hints will ensure your success...
Forget-Me-Nots can be started from seed. Directly sow Forget Me Not seeds into your flower garden after all danger of frost, or for earlier blooms, start them indoors a few weeks before the last frost in your area.
Cover seeds lightly with 1/8" of garden soil. Space them 4-5 inches apart and thin seedlings to 10" apart.
It will take the seeds 8-14 days to germinate. You should begin to see tiny buds within this time period. The plants should continue to grow to a size of 12-24 inches. They will produce tiny, true blue flowers with yellow centers that are so lovely blooming above the hairy leaves and stems. They make a wonderful carpet or ground cover under taller plants of small deciduous trees. You can try growing them in flower beds, borders, rock gardens, and containers.
Forget-Me-Nuts are easy to grow. They will bloom profusely in shady areas, and do not require a lot of attention. They prefer shade, but will do well in sun, too. They grow well in average soils but the soil should be kept moist.Add a general purpose fertilizer once or twice a season.
They may need mulching for winter protection in northern areas, or grow them as a biennial.
Enjoy these beautiful flowers and as always...never hesitate to call us for all your real estate needs! We are always interested in your referrals!!!
***(Information from The Gardener's Net.)