"If you build it, they will come," the often misquoted quote** from the 1989 "legacy" movie FIELD OF DREAMS, may well have been the inspiration for Putnam County's one and only public and team, Indoor Baseball/Softball Training Center.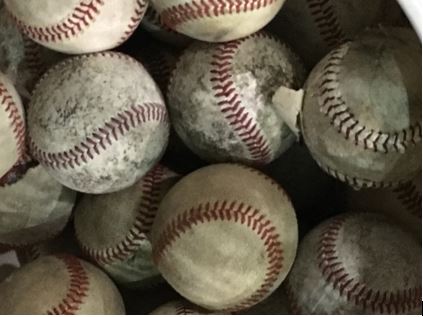 If this facility did actually start with Kevin Costner, James Earl Jones, Burt Lancaster (his last movie), Matt Damon (then 17) and Ben Affleck (then 16) in FIELD OF DREAMS, then –conceptually at least— Cookeville's Scott Large and John Short ("The large and short of it all," quips Operator/Coach/Trainer Scott Large) formed the original BASES LOADED partnership that seems to have followed in the movie's footsteps since opening their street front building in 2003.
Always something of a dream for Scott, after stints as a baseball coach for 20 years, including two Little League teams… and more than a dozen years of working with wife Debbie, running their own hobby and crafts store… it became time to build a business around the sport he loved, and one of the first training clients to take advantage of the facility was Tennessee Tech's Women's Softball Team.
The rest, so to speak, was history as BASES LOADED was born!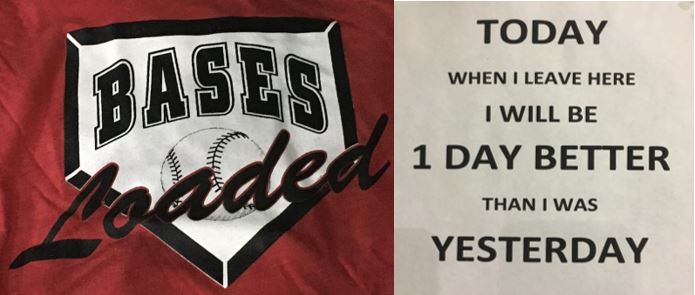 Debbie Large is full-time Mortgage Loan Officer at Putnam First Mercantile Bank (200 West Jackson Street, Cookeville), so she is just as busy but on a more regular schedule than Scott. Operating the batting cages/pitching/catching/fielding Training Center can result in vastly different hours than most jobs due to varying school, team and tournament schedules. Breaks in the schedule, however, have been known to prompt an occasional basketball game, taking advantage of the Center's centrally-located backboard midst all the batting cage's floor-to-ceiling protective netting. And the Center caters to all ages – from Little Leaguers to retirees.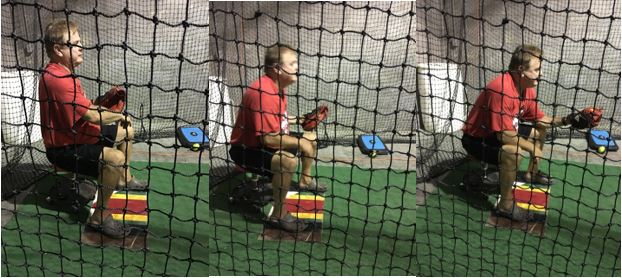 Sitting on a wheeled 2-foot tall stool replicating catcher-squat height behind a floor-embedded target, Scott talks through the netting as he catches and returns scores of steaming curves and fastballs being thrown by a college-size 13-year-old neighboring town pitcher he's been coaching. In between his shouts of encouragement to the 60-feet away youngster who commandeers the life-sized pitcher's mound, Scott discusses his own family punctuated by the repeated "thunks" and thwats" of the youngster's pitches landing in Scott's catcher's mitt.
"When we started BASES LOADED," he said, "our daughter Lindsey, was a new teenager (She is currently a mission ministry leader on campus at the University of Tennessee Chattanooga), and our son Chris (Who is now in his mid-20's), was in 5th or 6th grade at the time." Both benefited by what evolved as a family business. Lindsey continues to lead a "very athletic" life, and Chris was a 2-time All-American Pitcher with the Hiwassee College Baseball Team." Grinning ear-to-ear, it was obvious he didn't need to add, but did anyway: "Debbie and I are so proud of them both," he said.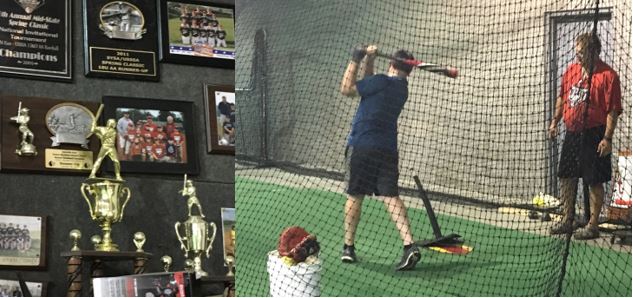 The multi-purpose facility was doubled in size a few years ago with an additional back-to-back building that is filled with netting, pitching machines, buckets of baseballs and softballs, bats and helmets. The indoor training center is operated daily by Scott Large ("often seven days a week, and sometimes nights, depending on seasonal training and team tournament needs"). A few other qualified trainers work with ballplayers at BASES LOADED, including Ralph Johnson. "Ralph is one of the best softball pitching coaches in all of Tennessee," says Scott.
Scott says there's a tract of land behind the large double building that he wants to begin to build a small baseball practice field for outdoor individual and team training on realistic playing field surfaces. So who knows . . . ? Build it and they will come!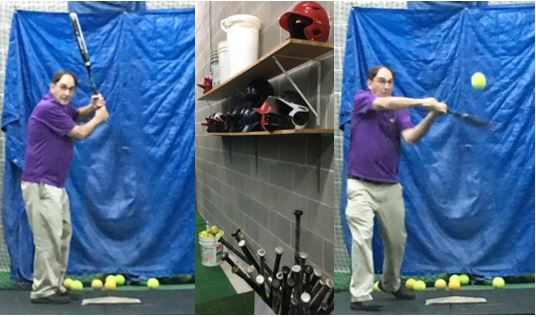 Cookeville City Slugger Councilman and former Mayor Dwight Henry hits one out of the park!
2017 RATES . . .
PUBLIC BATTING CAGE: $10 per hour [Requires two people minimum to operate pitching machine and to bat; any hour booked can be shared time of 30 minutes each, or 3 at 20 minutes each)
1-ON-1 INDIVIDUAL COACHING for batting, pitching, catching, and fielder throwing: Rates vary according to needs and numbers (age, time and attention required, etc.)
TEAM COACHING rates: $65-$70 per hour vary according to needs and numbers.
COMING SOON!!!
BUSINESS, CHURCH AND ORGANIZATION
BATTING CAGE TOURNAMENTS!!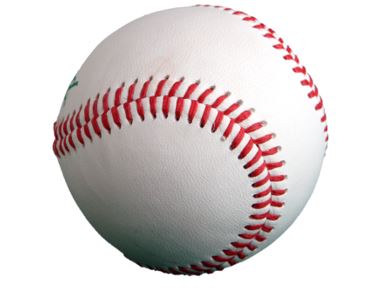 FOR HOURS, SPECIAL RATES AND TRAINING AVAILABILITY
SCHEDULING REQUIRED – PLEASE CALL IN ADVANCE 931.544.0695
1550 Shag Rag Road – Cookeville, TN 38501
DIRECTIONS: (Washington to 20th Street to the end —past Cookeville H. S. football field— it becomes Summerfield, then becomes Shag Rag, on the left (2nd of two adjacent cinderblock, blue-roofed buildings opposite "The Rail Trail" and 100 yards before the RR crossing).
***See web page for movie details: http://mentalfloss.com/article/63209/25-fast-facts-about-field-dreams