It was not a pleasant thought in "the old days"… and you know exactly what that means if your answer is "yup!" to the question: "Did your Pa ever take you out behind the shed?" The dreaded farm location where "wuppins" took place. Wuppins? Hmmm, what are they?
Well, that's what farm folk called a spanking. And so, if you're reading this and you're a millennial, you might ask: "uh, what's a spanking?" (in which case, you are one lucky duck!)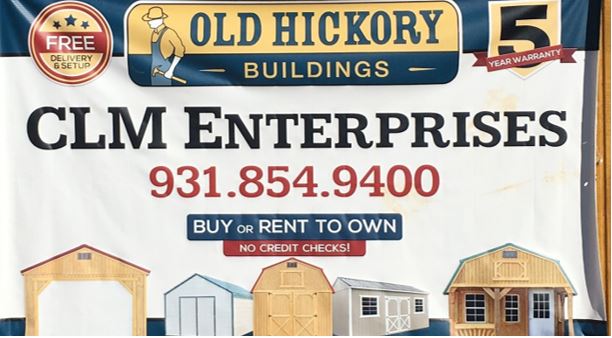 Anyway, sheds today are thankfully used for better reasons. They are better built, more style-conscious, more practical, and can actually add charm to a property. Not sure? Well take a look at some of the photos below and imagine what a useful and attractive addition one of these quality-made units could make tucked into a corner (or even in the middle) of your property.

The home office for franchise parent, Old Hickory Buildings, is in Murfreesboro, Tennessee, and the sheds are handmade in Kentucky. The CLM Old Hickory outbuildings serve whatever purpose you might have in mind (except, hopefully, no longer for "wuppins" ;)
They range in price from $1,300-$11,000 and come with wood or metal roofing. CLM offerings include a full range of metal carports, wood-crafted gazebos, and children's wood-crafted (climb/ slide/ swing/ clubhouse) play systems, play castles and play ships!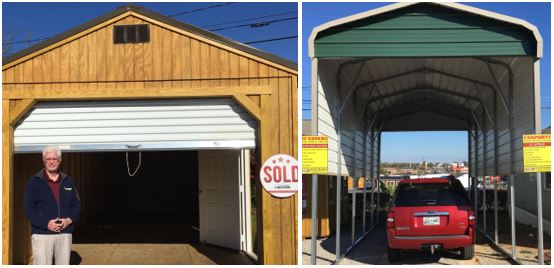 When Charlie Moore was asked by his lifelong friend Danny Higgins, to consider UN-retiring in 2012 (from his 42-years-long successful AIG - American General insurance agency career) to take over an Old Hickory shed franchise business lot in Cookeville, Charlie agreed. He jumped at the chance for a less stressful business and proceeded to recruit his whole family into what has become CLM Enterprises with a 35-shed inventory in Cookeville and a 25-shed inventory in Livingston.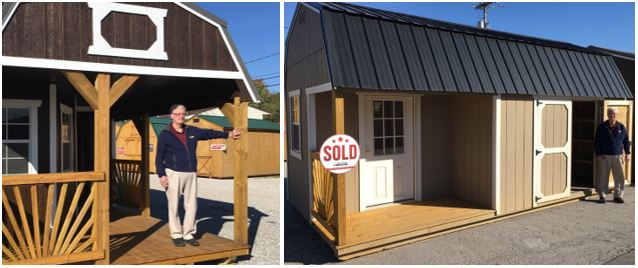 Charlie, and Linda, his wife of 50 years, are both Nashville natives. After living for a brief time in Murfreesboro, Cookeville has been their home since 1980. Linda (who also came out of retirement from years of pharmacy work) was recruited into CLM by her husband, along with daughters Kristy Kennen and Tonya Rice, son-in-law Darrell Rice, 16-year-old granddaughter Kaitlin, and 14-year-old grandson Zackary. All deserve master degrees in customer service because "buyer" or not, your visit to either lot location will reward you with genuine hospitality. . . and the refreshing opportunity to tour and inspect the inventory without a pushy salesperson breathing down your neck.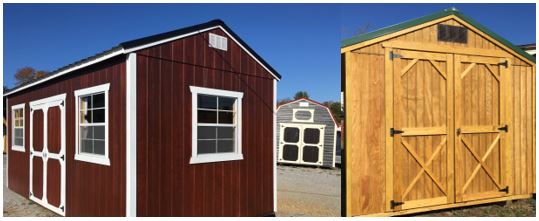 Proof of the pudding that not being pushy builds customer loyalty? The Moore Family has earned Old Hickory Million Dollar Club recognition for 2016-2017. Charlie, of course, doesn't just sit around all day either. He's actively involved with the Cookeville community as recent past president of Cookeville Kiwanis Club, and also of the Cookeville Optimists Club in the 1980's when he served as Parkview Elementary School football coach. He continues to participate in numerous local-benefit efforts and programs.
Oh, and if you think "sheds" haven't come along way, Charlie can give you a website to visit that allows visitors to custom design their own buildings with 3-D vision. In the meantime, try a visit to www.facebook.com/oldhickorybuildingsofcookeville to find more great selection photos and customer comments. And remember to stop by to see a full range of surprisingly reasonably-priced choices that can solve storage problems AND increase property value at the same time.
SITE & HOME DELIVERY (16x40 FT. MAX DELIVERY ALLOWED BY D.O.T.)
693 SOUTH JEFFERSON AVENUE IN COOKEVILLE
AND 1464 WEST MAIN STREET IN LIVINGSTON