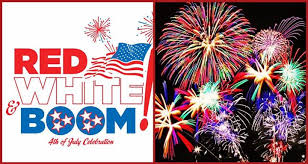 Red, White, & Boom Your Way to the Fourth of July!
Don't miss one of the best fireworks show in all of Tennessee! It is the second largest fireworks show in the state and it's completely free. However, this is not all Cookeville has to offer for the 4th of July and the days leading up to this special day.
Check out these events for a fun-filled week of festivities:
Friday, June 29th:
Come out to Dogwood Park for movie night! The After Dark Movie in the Park will be "Black Panther". The movie begins at 10pm.
Saturday, June 30th:
Starting at 8am at the fairgrounds will be a Firecracker Flea Market. This event is advertised to have food, barn sale, and fun. It ends at 8pm.
The next event on this day is the Car Cruz-In. This free event is a car lover's dream and goes from 12pm to 4pm. There will be door prizes and 250 classic cars to enjoy at the fairgrounds.
The next event is the first day of Slide Ckvl. This event features a 1,000-foot slip and slide that begins at 11am near Broad Street and Dogwood Park and ends at 8pm.
Sunday, July 1st:
On Sunday, Slide CKVL continues. The hours are nearly the same except it starts at 12am and ends at 8pm.
Monday, July 2nd:
Fill your ears with the sound of sweet music performed by the Cookeville Community Band. The concert will be held at Dogwood Park at the Performance Pavilion. This free concert starts at 7:30pm and ends at 9pm.
Tuesday, July 3rd:
You can continue to enjoy great music for free on Tuesday. Another concert will be held at Dogwood Park at the same time 7:30pm to 9pm. This concert features the Cookeville US Army Band.
Wednesday, July 4th:
This is the big day! So much will be happening in Cookeville for the 4th of July.
Starting at 10 am at the courthouse will be the Children's Bicycle/Wagon Parade. You can dress up and walk or decorate anything with wheels. Win cash prizes in 5 different categories: Most Creative, Best Putnam County Inspiration, Best Historical Character, Best use of Red, White and Blue, and Best Presidential. Registration begins at 9:15 at the parking lot adjacent to North Washington Ave and Freeze Street.
Come out and show your pride in our country and patriots at the Patriotic Ceremony. This event will be held at 10:30 at the courthouse. It will feature local heroes and celebrate America's birthday.
At 4pm, the gates will open at the Putnam County Fairground! From 4:30pm to 6pm there will be a watermelon eating concert.
From 7pm to 8:30pm, a concert will be held featuring the band Legacy. This band is known for their renditions of classic rock favorites as well as their own original music.
And finally, the main event!
Fireworks will begin at 8:45pm. People will be coming from all over to see our spectacular fireworks show. This is the 4th annual Red, White & Boom and will be handled by the world-famous PYRO Shows. The fireworks will be synced to music handled by Stonecom radio stations. The stations will be 93.7, 94.1, 95.9, and 106.9. You can get optimal views of these amazing fireworks on Jefferson Ave and Interstate Drive.
As you can see there is no shortage of events in Cookeville around the 4th of July. Boredom is not allowed during this time! Come out and celebrate our country's 242nd Independence Day and attend one or all of the many wonderful events that will be held in our fair city and have a safe and happy 4th!