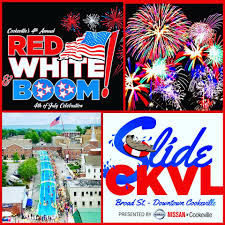 Slide into Fun With Slide CKVL 2018
Are you looking for something to do the weekend before the 4th of July? Would you like to take a trip down memory lane and speed down a water slide? How about a 1,000-foot water slide that will transform the areas near Dogwood Park and Broad Street?
If you answered yes and you're looking for an adventure then you can't miss Slide CKVL! Adults and children alike can enjoy an amazing water slide that splashes through the heart of Cookeville. This event begins Saturday June 30th, from 11am to 8pm and continues on Sunday July 1st, from 12pm to 8pm.
3 Years and Counting
Slide CKVL first began in 2015 under the name of Slide the City. Due to the success, Cookeville has now made this an annual event that everyone can look forward to every year around the 4th of July.
This year, the event begins at 10 am with Registration at the parking lot adjacent to Borden's Jewelry on Broad Street. Here you will exchange tickets previously purchased for the armbands needed to enjoy the slide.

Volunteer and Enjoy Free Fun
In order to keep ticket prices affordable, Slide CKVL is partially run by volunteers. In return for donating your time, you will get to ride for free! There are still about 20 spots left that need to be filled. If you're interested in donating your time for Cookeville and for a free ride down the slide, then click here to sign up.
More Than Just a Giant Water Slide
There are other things to do at this event too. There will be plenty of music, food, and beverages. Enjoy some delicious barbeque from Rockin' Bouncin' BBQ and wash it down with Coke products sold by CityScape. There will also be some fun souvenirs available for purchase so you can always remember your time at Slide CKVL.
Purchase Your Ticket Today
Tickets are still available for purchase. You can buy them at the Cookeville Performing Arts Center, or at their website www.cpactn.com. If you buy your tickets online be advised there is a $3 convenience fee per ticket.
Pricing for the tickets are as follows: $10 for two armbands and $20 for five armbands. Each armband gives you one trip down the slide. For $25 you can get unlimited trips down the slide.
These armbands are good either Saturday or Sunday. An inner tube will be included free with each ticket packet purchased.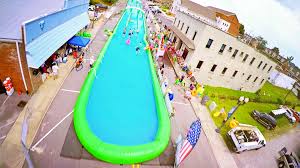 Safety Restrictions and Requirements
There is no minimum height requirement to enjoy the slide, however the minimum age is 3 years old and the rider must be able to manage an inner tube alone without falling through.
It is up to the child's guardian to decide if their child can handle the tube and the trip down the slide safely. No lap riders are allowed. Each person must ride solo on their inner tube. Everyone who rides must also sign an injury release form in order to enjoy the slide.
So, take a slide down memory lane, while also creating new memories for your little ones. Even those wanting to stay dry can have fun. You can dance to the music, enjoy the food and merchandise this event has to offer and kick off the 4th of July celebration with a bang!